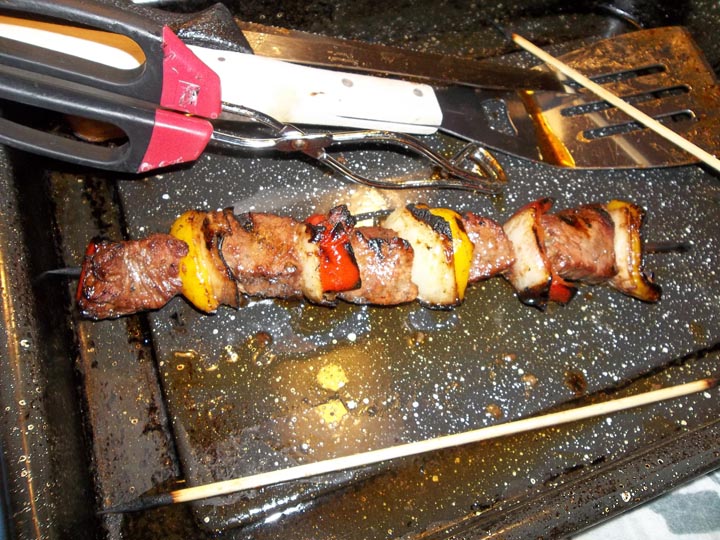 I'm sorry I don't have a lovely photo of these awesome beef kebobs, but we were so busy eating I forgot. They're just that good. By the time I remembered, there was just this lonely little kebob left, so he'll just have to represent for his brothers.
You can use any cut of beef you want, but obviously the better the meat, the better the kebobs will be. Made with prime rib, they're to die for, but it has to be a really special occasion before we go there. Day to day, I'll usually use something cheaper, even tri-tip. They're marinated for 24 hours, so that helps. You can even marinated these longer if you want.
This recipe will make six kebobs, maybe more depending on the size of your beef cubes and how much you can cram on a skewer. Most normal people will eat one kebob. Mr. Man will eat one and a half or two, because he's always worried about where his next meal is coming from.
You can cut this sauce recipe in half and it will marinate 4 eight ounce steaks. I do that sometimes if I have a steak that doesn't look like it's going to be all that tender and will need a little help. Just pop them in a zip lock bag with some sauce and leave in the fridge overnight to get delicate.
BEEF KEBOBS
3 pounds beef, cut in roughly 2″ cubes
1 cup barbeque sauce
6 Tablespoons olive oil
6 Tablespoons Worcestershire sauce
4 Tablespoons steak sauce (like A-1)
2 Tablespoons apple cider or wine vinegar
2 Tablespoons soy sauce
4 teaspoons steak seasoning (like one of the Grill Mates blends)
2 teaspoons hot pepper sauce (like Frank's)
2 cloves garlic, minced
2 large bell peppers, seeds and ribs removed & cut in chunks
2 large onions, cut in chunks and layers separated
Mix the whole mess up, cover and refrigerate 24 hours. Alternate meat, peppers and onions on skewers, and hit the grill.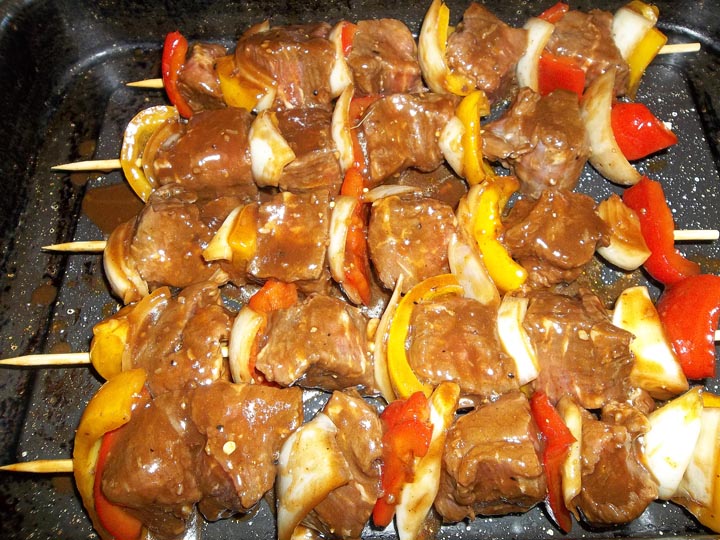 I have a before photo, but fell down on the job with the after photo. I served the kebobs with pilaf, corn on the cob, and broccoli. And then a hush fell over the table…..