Maybe not quite your Mamma's cornbread, but really good. My Missourian mother-in-law likes it, so it can't be too bad! Here it is pictured with it's best friend Beans.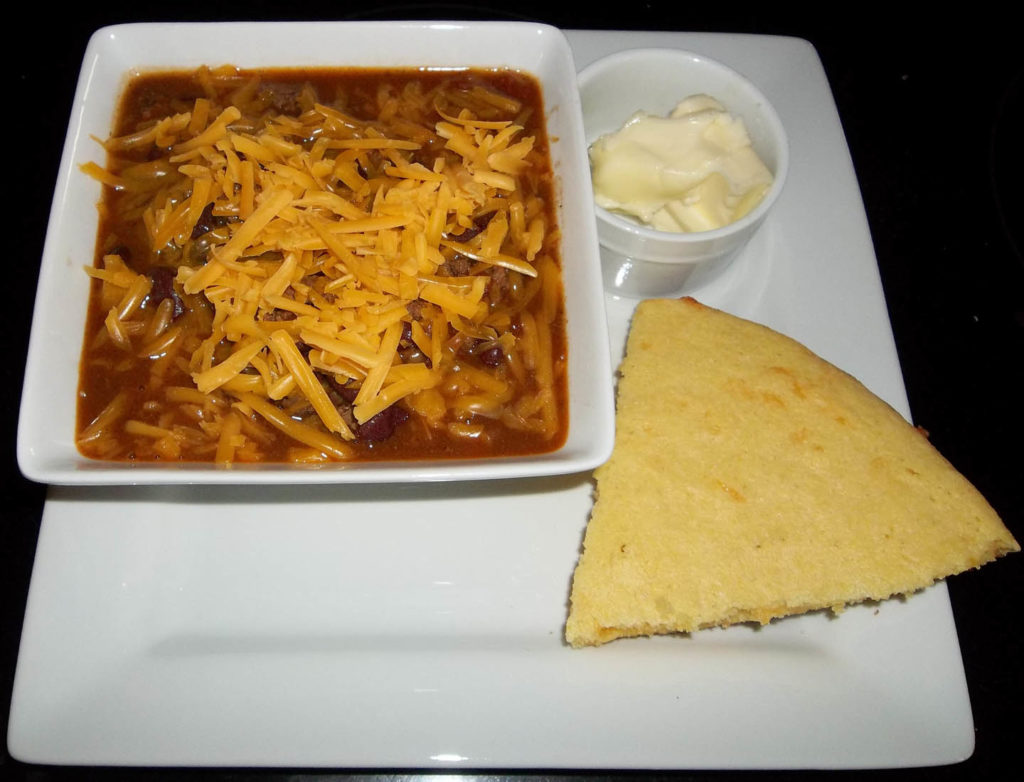 You can play around with this recipe to suit your tastes. If you like sweet cornbread, increase the sugar to 1/3 cup. Or you can use less sugar if you roll that way. You can leave out the cheese, but why? You can try adding two ears of roasted corn kernels to your batter, or a can of diced green chiles. It's all good. If you don't have a cast iron skillet, I pity you, but you can bake this in a 9″ square pan. It will just take longer to cook.
A note on baking powder: Be sure to buy baking powder that's aluminum free. Some people can't taste the difference, but for those of us who can, it makes all the difference in the world. For me, aluminum adds a bitter taste that's just inedible. So why do they make baking powder with aluminum? Because it's a little cheaper. That's it. So pay a little more and get the good stuff.
1 teaspoon shortening (to grease your pan)
3/4 cup flour
1/4 cup sugar
2 teaspoons baking powder
1/2 teaspoon salt
1 cup yellow cornmeal
2 eggs
1 cup buttermilk (can use milk)
1 cube butter, melted
1/2 cup grated cheddar cheese
If I'm making quick chili beans, I get them going first. Then I use a paper towel to grease the inside of my 10″ cast iron skillet, pop it in the oven, and preheat to 375 degrees.
While the oven is heating I mix up the cornbread batter. Dump all of the ingredients except for the butter and cheese into a bowl and mix well. Just mix it quickly by hand, you aren't making a cake. Last stir in the butter and cheese.
Grab some good potholders and take your screaming hot pan out of the oven. Spread the batter into the pan and pop it back in the oven until the edges are browned. It will take about 15 minutes in a pre-heated, 10″ cast iron skillet, longer if using a baking pan.