Hands down my favorite pretzel recipe. I like plain old buttery, salty pretzels best, but you can dip yours in cinnamon & sugar if you want. It also makes delicious garlic bread knots if you want to impress somebody. Or just yourself.
The dough handles like magic. You absolutely cannot fail!
1 cup milk
1 pkg quick rise yeast
3 Tablespoons brown sugar (packed)
2 Tablespoons melted butter
1/2 teaspoon salt
2-1/4 cups flour
3 cups warm water
1/3 cup baking soda
1 cube butter
Toppings: coarse salt OR cinnamon & sugar OR Parmesan cheese & garlic.
Heat the milk to 110 degrees. Pour into a medium sized bowl and stir in the yeast. Let the yeast soften for two minutes, then stir in the brown sugar, butter, and one cup of the flour until well mixed, then stir in the rest of the flour.
At this point, you would usually turn the dough out onto a floured surface and knead for five minutes. I don't want any more flour in this dough than necessary. So I slip on a pair of disposable gloves and knead the dough by squishing in first one hand, then the other. Fold, squeeze, work the dough for at least a minute, two if you don't get tired. If it sticks to your gloves, add just a tiny bit of flour at a time until you can work it without sticking.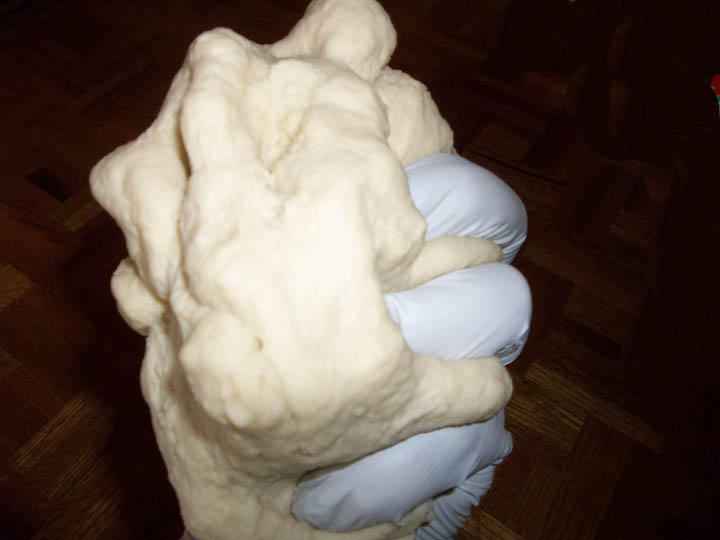 Spray the inside of a medium bowl with cooking spray. Drop in the ball of dough and turn to coat. Cover with plastic wrap, set in a warm place, and let it rise for two hours.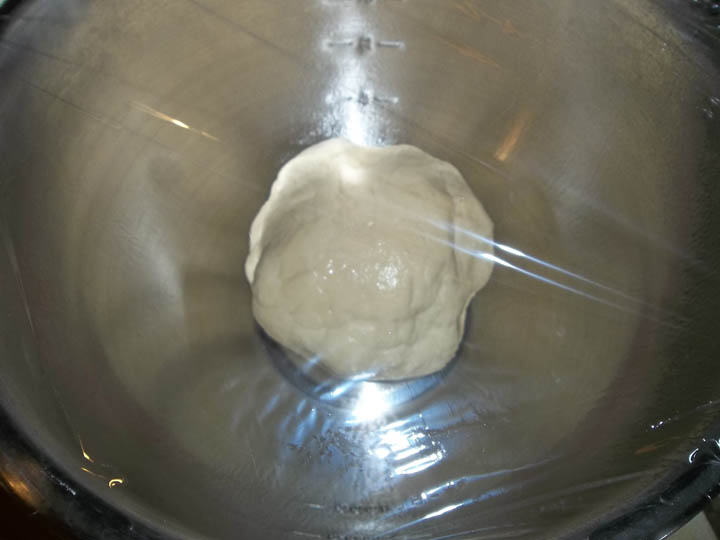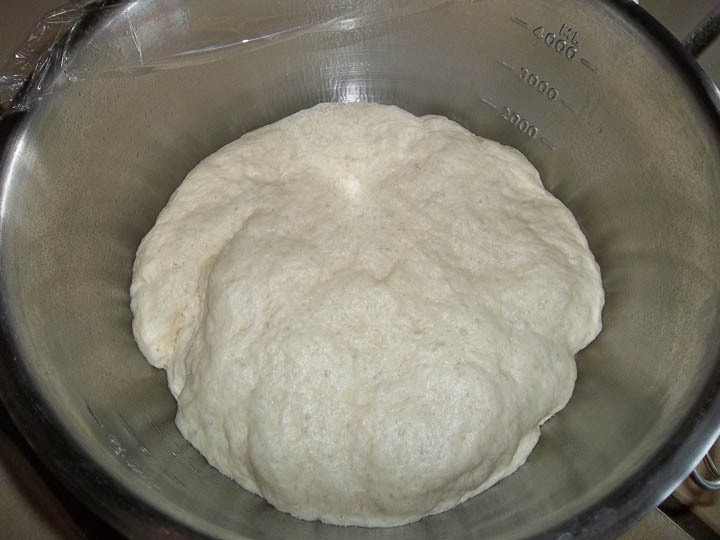 Preheat your oven to 450 degrees.
Fill a small baking dish, like an 8″ square baking pan, with 3 cups warm water. Stir in 1/3 cup baking soda until at least mostly dissolved.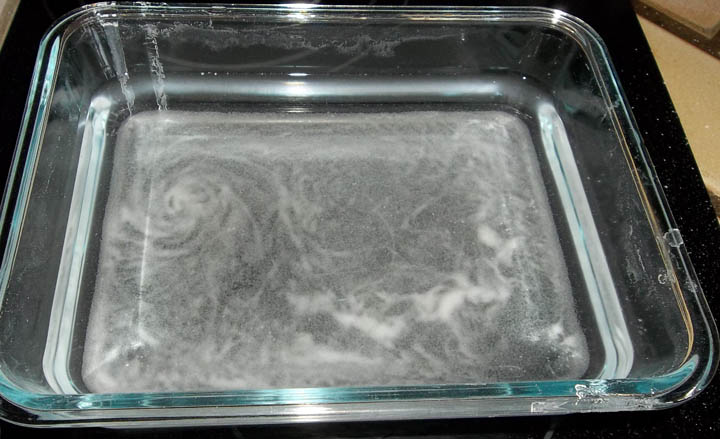 Cover a cookie sheet with parchment paper, or coat with cooking spray
Divide the dough into eight pieces, because I'm usually making these for four people and it divides evenly. If you want to make bigger pretzels, divide the dough in six pieces or less. Up to you.
On a cutting board, I roll and stretch each piece of dough with the plams of my hands until it's formed into a long rope. Kind of like you used to make snakes out of clay when you were a kid. If making 6 pretzels, make your rope about 24 inches long. If making 8 pretzels, make it about 15 inches.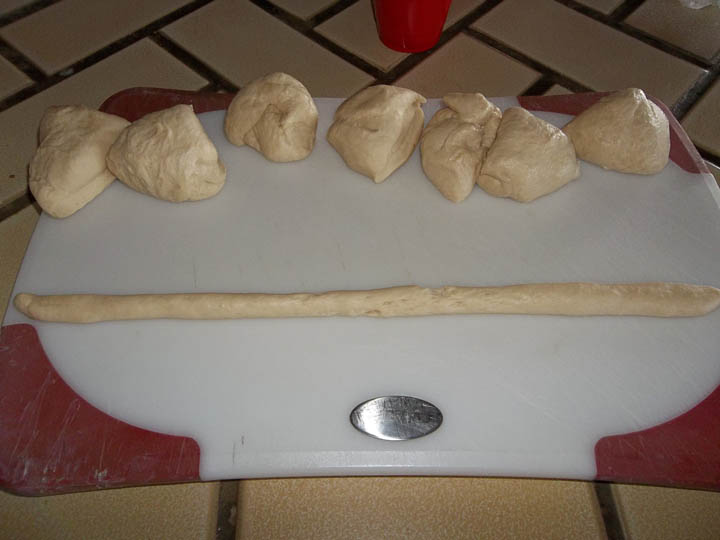 Quickly dip one dough rope into the baking soda/water mixture, then shape into a pretzel. If I'm making small pretzels, I usually just shape the dough into a knot. Funny thing, they taste just the same!
If you're making traditional salty pretzels, sprinkle with a little coarse salt. Just a little! Less than you think! Otherwise they will be REALLY salty!
Bake until golden brown, which will probably be 8-10 minutes.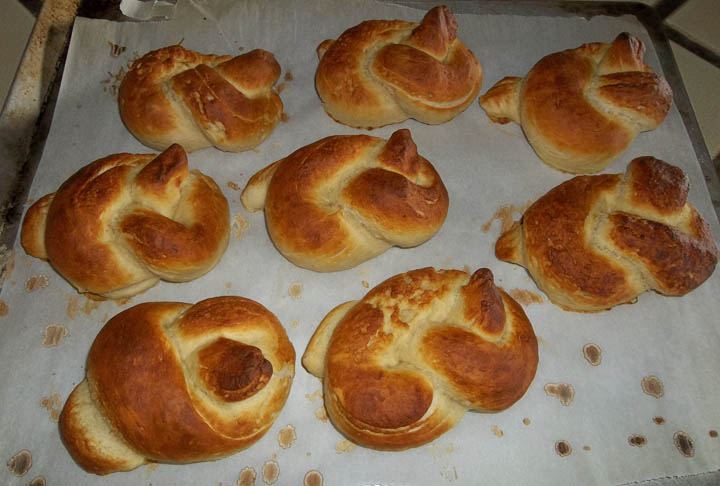 Remove from the oven and brush with melted butter.
Cinnamon & sugar pretzels: Mix together 1/2 cup sugar and 2 Tablespoon sugar in a shallow dish. Melt the butter in a shallow dish. Dip the pretzels in the melted butter, or brush with melted butter, then dip into the cinnamon/sugar mixture.
Garlic Bread Knots: Melt one cube butter in a small pan. Add one or two cloves crushed garlic and cook for a minute to infuse the butter with garlicy goodness. (or you can just add some garlic powder to your melted butter) Grate some fresh Parmesan cheese. Coat your hot pretzels with butter and sprinkle on the cheese. You can also try sprinkling the pretzels with the cheese a minute or two before they're done baking so that the cheese is all melty toasty on top. Then brush with butter to serve. If you have bread, butter, garlic and cheese, in any way, shape or form, you're good to go.