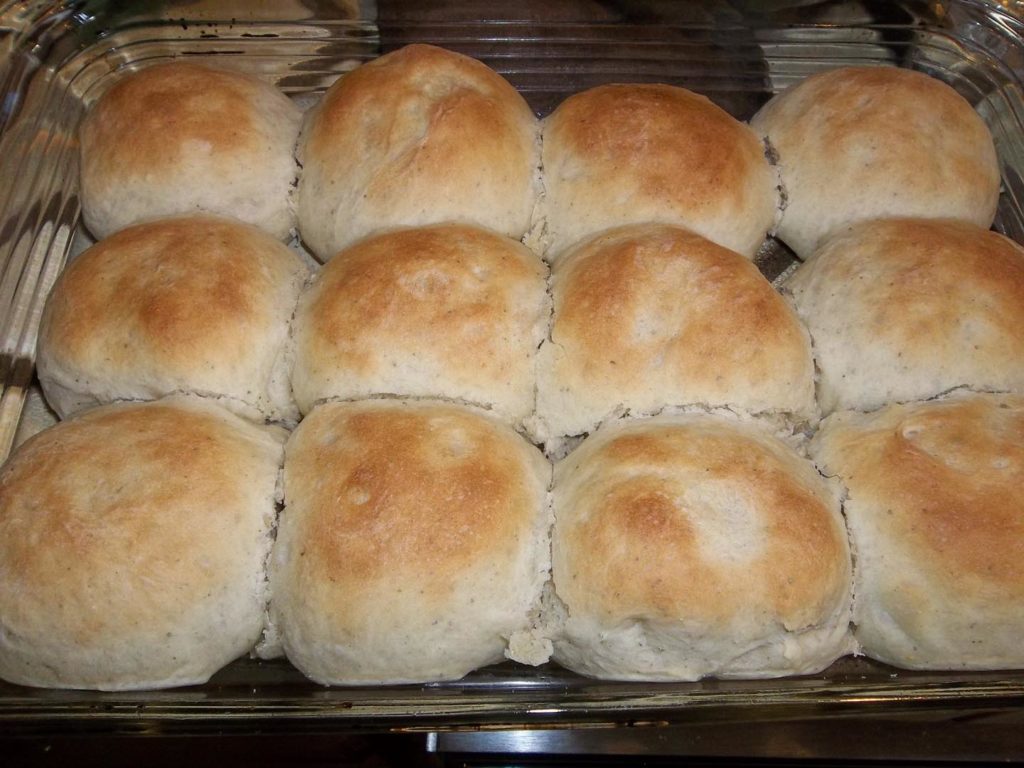 What? You say these don't look like loaves? That's because I decided to bake them in a pan like rolls, which I can do. Because it's my party and I can do what I want. But I USUALLY shape my dough into six individual loaves and bake them on a cookie sheet. Then six dinner guests each get their own, individual little loaf of bread. Isn't that cute? Maybe next time I do that I'll change my picture. I really do like the texture better when they're baked in individual loaves.
Sometimes I make these with the Italian seasoning. Sometimes I make them without. Usually I use all Parmesan cheese because I don't have any Romano cheese. It's all good. It's bread. It's fresh. It's hot. How could it be bad?
I make these three hours before I plan to stick them in the oven, so figure 3-1/2 hours before you want dinner on the table.
1 package quick rise yeast
1-1/4 cup warm water (110-115 degrees)
2 Tablespoons sugar
1 teaspoon garlic salt
1 teaspoon salt
1 teaspoon Italian seasoning (optional)
1/4 cup grated Parmesan cheese
1/4 cup grated Romano cheese
3 cups flour (up to 3-1/2 cups)
Stir the yeast and sugar into the warm water and let sit for 10 minutes while you put the rest of the ingredients into your food processor. Start with 3 cups flour, which is usually enough. Start up the food processor and pour in the liquid. Let it process for a few minutes until well mixed and the dough cleans the sides of the bowl. If it's sticking to the sides, add more flour one tablespoon at a time. Don't add any more flour than necessary to get a nice ball of dough that isn't too sticky.
If you don't have a food processor, you can mix this by hand, then turn out onto a floured surface and knead for 6-8 minutes until your arms give out.
Then spray a large bowl with cooking spray, or coat with oil. Place your ball of dough in the bowl and turn it over to coat with oil. Cover the bowl with plastic wrap and place in a warm place to rise until the dough is at least doubled in size. I usually give it an hour and a half.
To make individual loaves, which is really the preferred method, cut your dough in half. Roll each half into a 10 X 15 inch rectangle. From the long side, roll it up into a jelly roll, then cut into three 5″ long pieces. Pinch the cut ends of the dough together to seal, then place seam side down on a greased cookie sheet.
Brush the loaves with water and cover with plastic wrap coated with cooking spray. Let rise until doubled in size. Bake at 400 degrees for 15-20 minutes. Brush with melted butter. If you want, you can make three shallow, diagonal cuts in the top of each loaf before baking, just for effect.