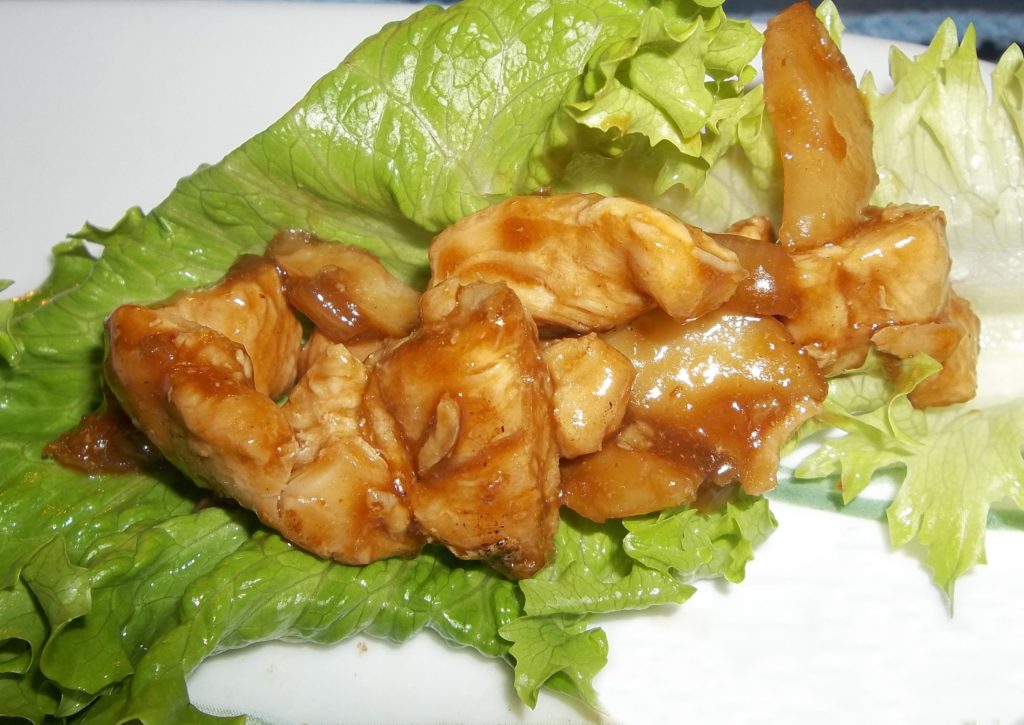 I really like the lettuce wraps at Dai Bai Dang in Fresno. In case you don't know, Fresno is the "eat out" capital of the world. I think we have at least two restaurants for every person, with just about every kind of food imaginable.
When I get a teleporation device installed in the kitchen, it will be awesome. Somebody keep working on that. "Beam me up some lettuce wraps Scotty".
Until then, I'll just have to make my own lettuce wraps when the craving hits. I probably won't diminish their customer base, but these are pretty darn good. If you don't feel like fumbling around with the lettuce leaves, just serve with some white rice.
I like chunky chicken bits, but you could use ground chicken or even ground turkey. You can leave out the Siracha completely, or add as much as you want. I'm a real wuss, so at one tablespoon I can feel a little burn, which is just right for me. I also go light on the ginger, a little over one tablespoon, but it's up to you. You can leave out the cashews if you want and double up on the water chestnuts if you like. You could even add some bell pepper. Have it your way.
Once you get all your prep work done, the actual cooking takes very little time, maybe 15 minutes tops. This recipe makes a vegetable bowl/serving bowl full of goodness. Leftovers are OK….. And excuse the photo. We were so busy eating, it was an afterthought. I have my priorities!
2 pounds chicken, diced (about four breasts, or use ground chicken)
1 medium onion, diced
4 cloves garlic, minced
1-2 Tablespoons fresh ginger, finely grated
1/2 cup hoisin sauce
4 Tablespoons oyster sauce
2 Tablespoons rice vinegar
1-2 Tablespoons Siracha (optional)
8 oz can water chestnuts, drained & chopped
big handful of unsalted cashews (optional)
2-4 green onions, sliced (optional)
Lettuce leaves for serving (butter, iceberg, whatever you prefer)
In a small bowl, combine the hoisin sauce, oyster sauce, vinegar and Siracha
I add a tablespoon of olive oil to my trusty cast iron pan, and cook the chicken until done. Drain, and reserve.
Add another tablespoon of oil to the same pan and cook the onion until it's soft and translucent. Stir in the garlic and ginger, giving them a minute to cook a bit, then dump in the sauce and chicken. Cook and stir until the chicken is hot. Add the water chestnuts and cashews, giving them a minute to heat up.
Just before serving, stir in the green onion to add a little color, or you can pour the chicken into a bowl and sprinkle a little green onion over the top. There's already onion in there, so adding green onion is just a little bonus.