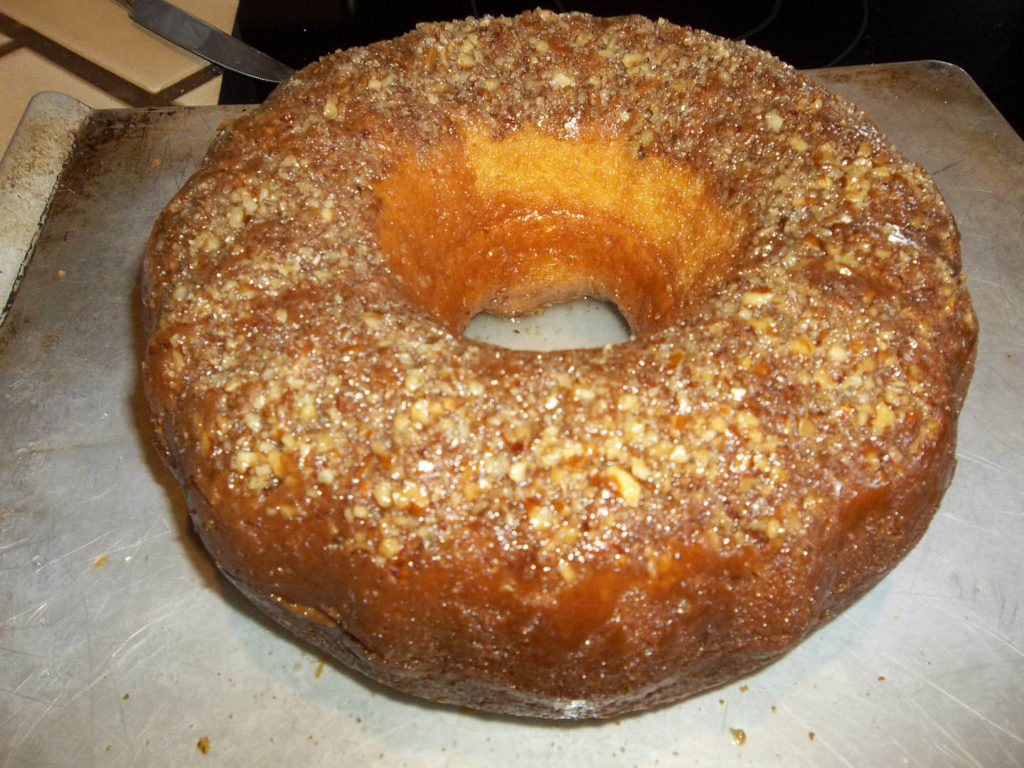 This is the old Bacardi Rum Cake recipe I've had for years. It should be in the cake Hall of Fame. It's everything a perfect cake should be: moist, delicious, freezes well & keeps for days. It's a perfect holiday or company dessert. Also pretty good for breakfast with a cup of coffee. Please make it with your favorite Bacardi rum, light or dark. It's the least we can do to thank them for this awesome recipe!
I've also made this with butterscotch pudding when I didn't have vanilla. Still yummy. If you're feeling adventurous you could try other flavors of cake and pudding mix I suppose. Just make sure you use one of the "traditional" yellow cake mixes, that doesn't have pudding in the mix. If you hunt around on the internet, you can find instructions for making it with a cake mix that already has pudding in the mix, in which case you omit the pudding, but I never make it that way. I figure if it ain't broke, don't fix it.
BACARDI RUM CAKE:
1     cup finely chopped pecans (walnuts will also work)
1     package traditional yellow cake mix (do not use cake with pudding in the mix)
1     3 oz package vanilla instant pudding mix (the little box)
4     large eggs
1/2  cup cold water
1/2  cup cooking oil
1/2  cup Bacardi rum (light or dark)
Coat a bundt pan with cooking spray, butter, or shortening, and dust with flour. Sprinkle the chopped nuts in the bottom of the pan, and gently spread out a little to cover as much as possible.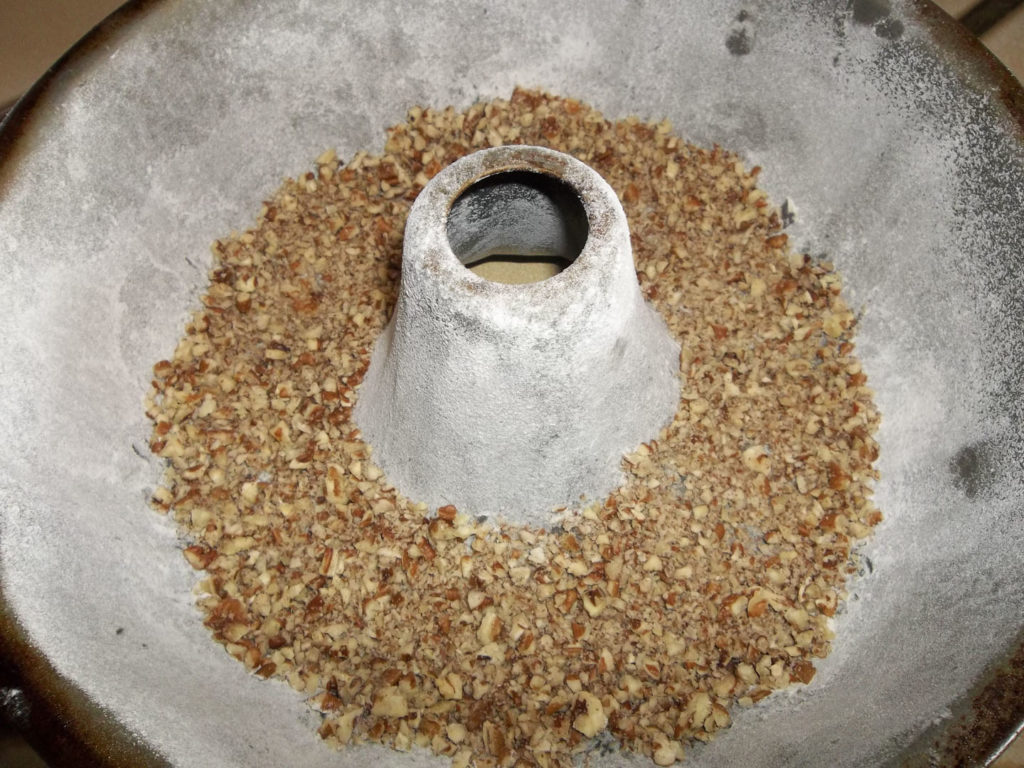 Beat together the cake mix, pudding mix, eggs, water, oil & rum. Pour the batter over the nuts and bake at 325 degrees for 50-60 minutes. The cake is done when the top is golden brown and the cracks are dry.
Cool ten minutes, then invert onto a cookie sheet. (I've also let it cool, covered the top with plastic wrap, and put the glaze on the next day.)
Use a fork and a toothpick to poke holes all over the top and sides. A fork works well on the inside and top half of the outside. I use a toothpick for the top and sometimes the bottom part of the sides if the outside is crusty and the fork is tearing it.
GLAZE
1/2  cup butter (one stick)
1/4  cup water
1     cup sugar
1/2  cup rum
Melt the butter in a saucepan. (Don't use a really small pan or it might boil over). Stir in the water and sugar. Bring it to a boil and boil for five minutes. I usually stir it a couple of times while it's boiling; no need to stir it constantly. When five minutes are up, remove from the heat, stir in the rum, and immediately start glazing the cake.
I use a pastry brush to kind of pat an brush it on the cake. Keep going over the cake with glaze until it's used up. It won't all absorb, but get as much to soak in as you can. Then I let it set for a while to let it dry up a little, and cover with plastic wrap to store until time to serve.