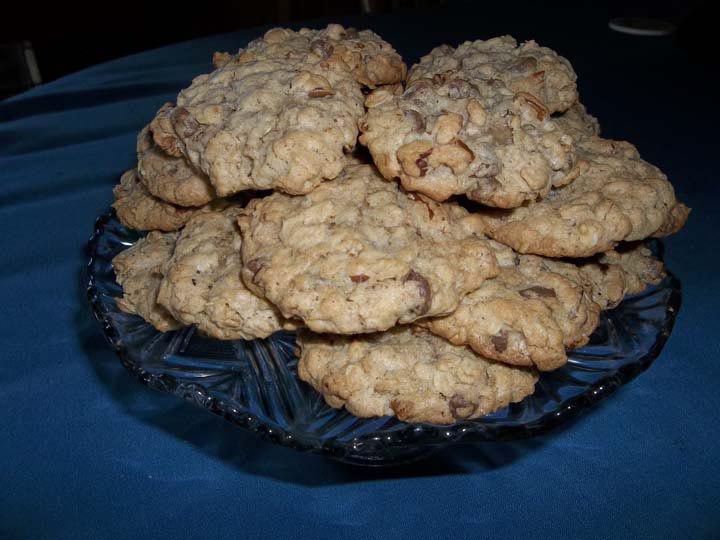 I love oatmeal cookies. These are filled with toasted pecans and chocolate chips. Oatmeal and pecans are good for you, chocolate has anti-oxidants, so I conclude these cookies are health food! That's my story and I'm sticking with it. You could add raisins instead of chocolate chips I guess, but why would you want to? Remember those horrible people that used to put little boxes of raisins in your trick-or-treat bag? But I digress. Add raisins if you must, but I'll take the chocolate chips please.
LOADED OATMEAL COOKIES
3/4 cup pecans
1 cube butter, softened
1/2 cup brown sugar
1/2 cup white sugar
1 egg
1 teaspoon vanilla
1/2 teaspoon baking powder
1/2 teaspoon cinnamon
3/4 cup flour
1-1/2 cups regular oatmeal
3/4 cup chocolate chips (or raisins, bleah!)
Preheat the oven to 350 degrees. Spread the pecans on a cookie sheet and bake for 5 minutes until crispy, then coarsely chop and set aside.
Dump the butter, sugars, egg, vanilla, baking powder, cinnamon and flour in a bowl and beat well. Mix in the oatmeal, pecans & chocolate chips or raisins until well combined.
Line a cookie sheet with parchment paper. Shape the dough into balls about 1-1/2″ in diameter. Place on the cookie sheet and flatten slightly. Bake for 12-14 minutes until the edges are browned. Cool slightly, then place on a wire rack to cool completely. Will make about 24 cookies, so double the recipe if you're a cookie monster.