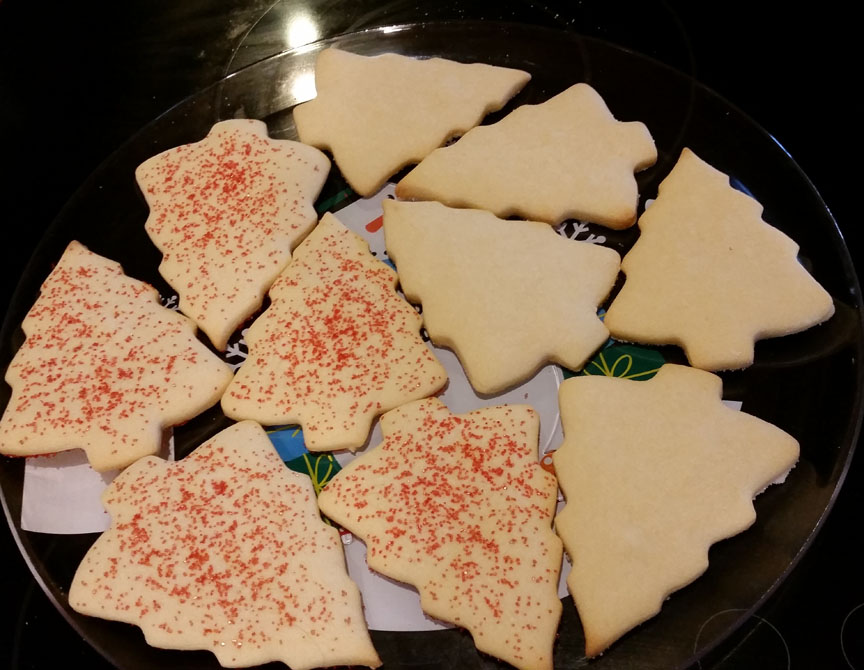 This past holiday season was rough. Between a rotator cuff injury and back-to-back colds, my mantra for the season became "Lower Your Expectations". As a result, I took a mulligan on all the usual holiday baking.
I guess that's why I had an urge to bake some sugar cookies today. The tree shapes have nothing to do with making up for Christmas. It's just the only cookie cutter I could find. I have dozens, but they were taking up too much room in my kitchen drawer so I put them someplace else. Somewhere better. And someday I'll remember where that is.
Anyway, this is my go-to sugar cookie recipe. You can change the extracts used to suit yourself. Almond, vanilla, lemon, they're all good.
1 cup softened butter
1-1/2 cups powdered sugar
1 egg
1 tsp vanilla extract
1 tsp almond extract
2-1/2 cups flour
Mix together and chill dough for at least a half hour. Roll dough out about 1/4″ thick, cut into shapes. Bake at 350 degrees for about 10 minutes.