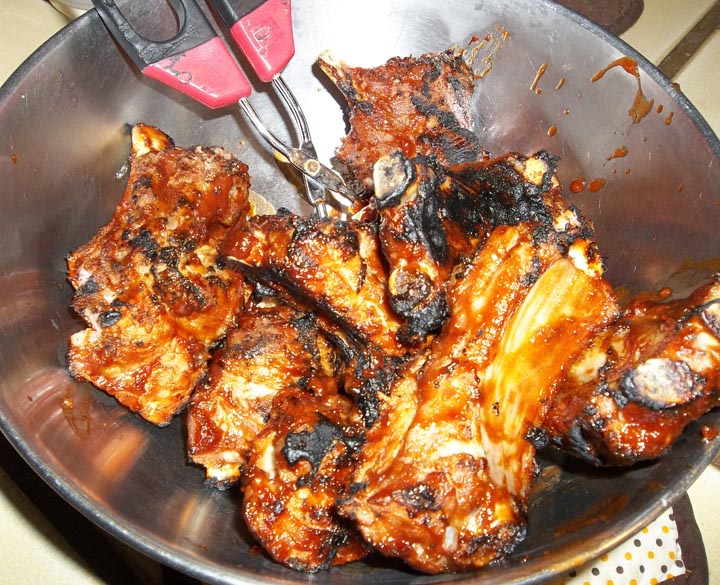 Boiling makes these ribs falling-off-the-bone tender, and renders away all the fat, so they're leaner and tastier in my humble opinion. All of the flavor is in the yummy sauce anyway. The ribs are just the vehicle.
If you're having company, you can prep these ahead of time and just slap them on the grill for about fifteen minutes or so right before you're ready to eat. They're only grilled long enough to cook the sauce and char the ribs, and will heat back up in the process.
4 pounds pork ribs (baby back preferred)
Sauce:
1/4 cup brown sugar
1/2 cup ketchup
2 Tablespoons soy sauce
2 cloves garlic, crushed
1 teaspoons dry mustard
I use a pair of kitchen shears to cut the ribs into two rib sections to make them easier to handle, but you can do whatever you want. Plop them into a pot of boiling water, boil for one hour, then drain.
Meanwhile make the sauce by combining all the ingredients. You don't even have to cook the sauce or anything. Just brush it on the ribs, coating them thoroughly. One batch of sauce is just enough for one rack of ribs.
Grill the ribs over medium high heat until the sauce is cooked and the ribs have a little char going and that's it. No fuss, no muss, and they're delicious!