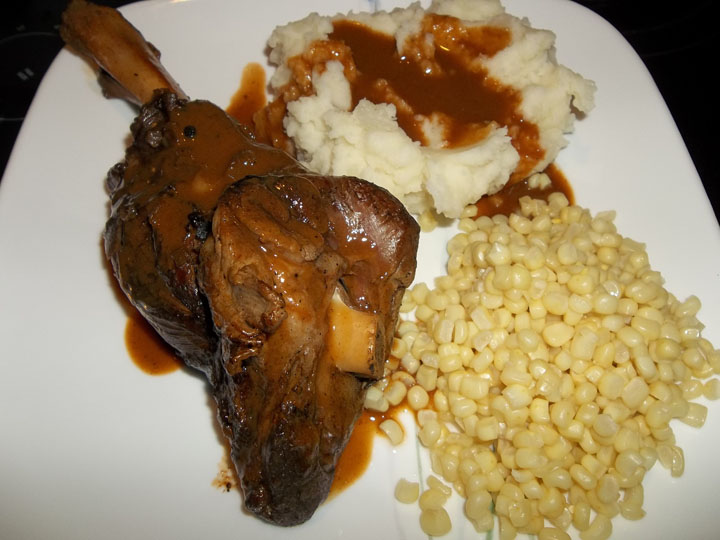 If you think lamb shanks might taste a little wild or gamey, you'd be wrong. These taste quite a bit like roast beef, only extra tender and delicious. Sometimes you just feel the need to kick it up a notch and make something a little more gourmet. These would be great to fix for company or to celebrate a special occasion. They require a little more fussing, and take a long time to cook, but they're simple enough to make. The recipe serves six, but I usually only cook for four, so I use 2/3 of the ingredients. There might be a math quiz later.
First I drag out my trusty cast iron skillet, add a little oil, and brown the lamb shanks on all sides and the ends. This requires a lot of maneuvering because they're slippery little suckers and they have no flat sides. You just have to flip, twist, balance, and do the best you can to get them well browned in as many places as possible. As my mother-in-law would say, you want to get a good scald on them.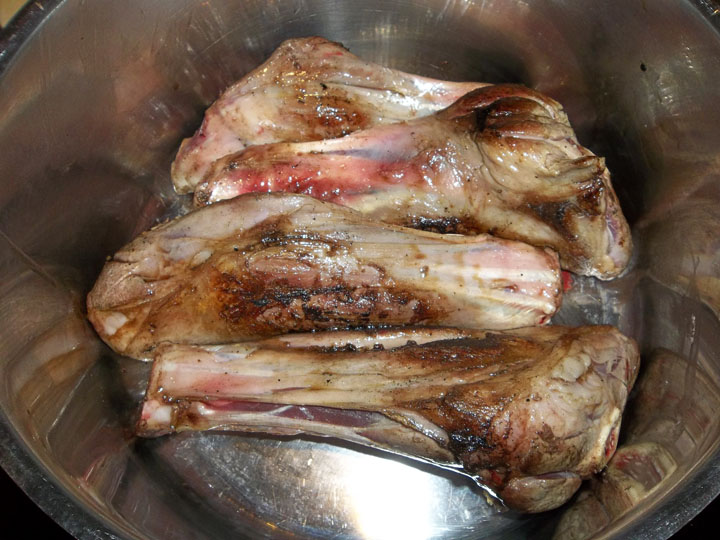 Then I arrange them in my cooking pot, trying to keep the thickest part of the meat toward the bottom where all the cooking liquid will be.
Then I wipe out my skillet, add the olive oil, peppercorns, celery, onion and garlic.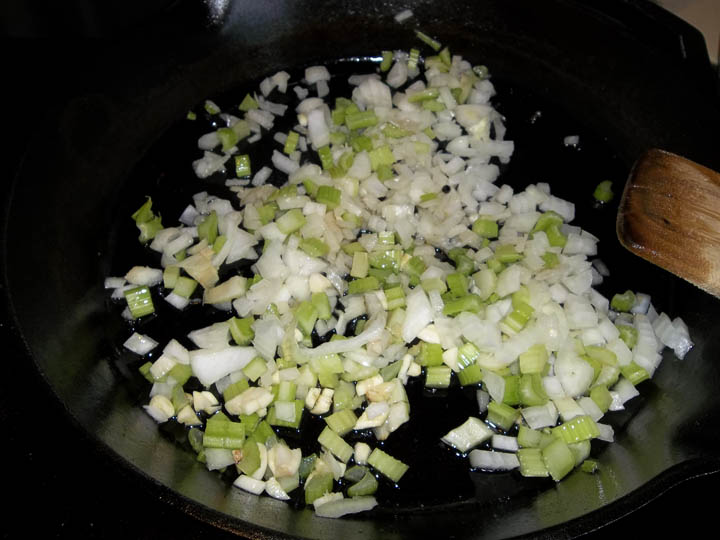 Cook and stir over medium heat for 7-10 minutes until the onion is turning golden. Add the tomato paste,  then cook and stir for two more minutes being careful not to let it burn.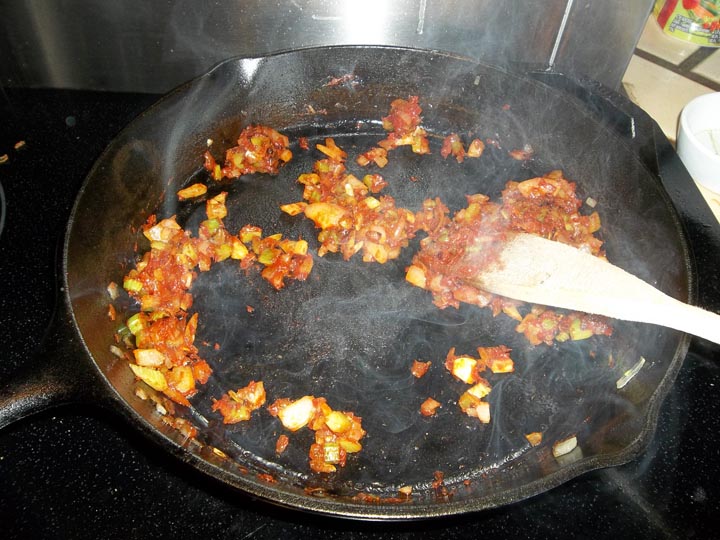 Next add the wine, rosemary, thyme and bay leaf. Cook this for about four minutes until the liquid is reduced to about half. Don't worry about the twigs and bits, you're going to strain this before you serve it.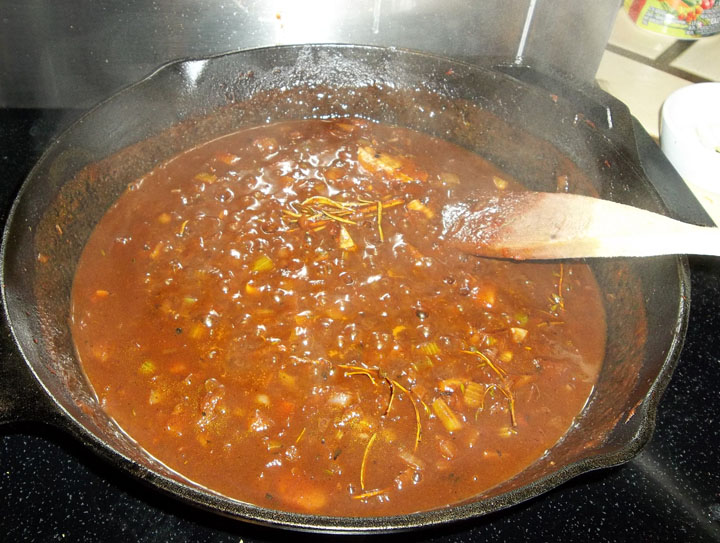 Add the water to the slurry you have going in the pan, mix well, and pour over the lamb shanks.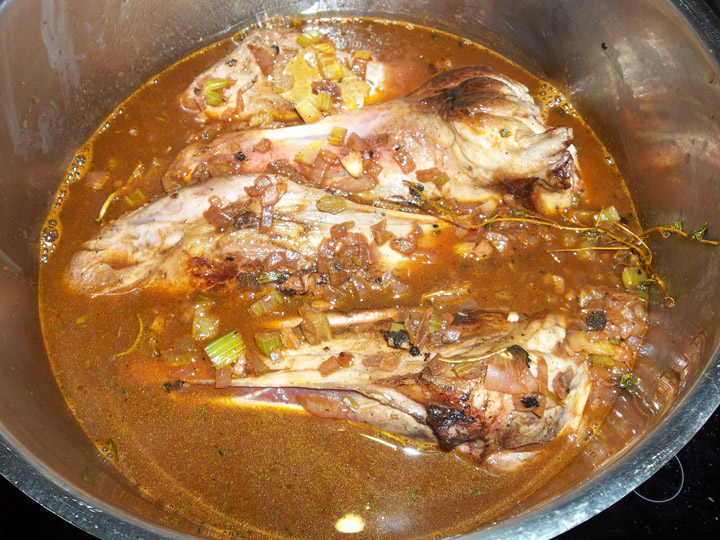 Heat until the broth starts to boil, then reduce the heat to low, cover, and simmer for 3 hours. I set the heat at 2 out of 10 on my electric cook top. Don't peek. Don't stir. Just keep it low and let it go.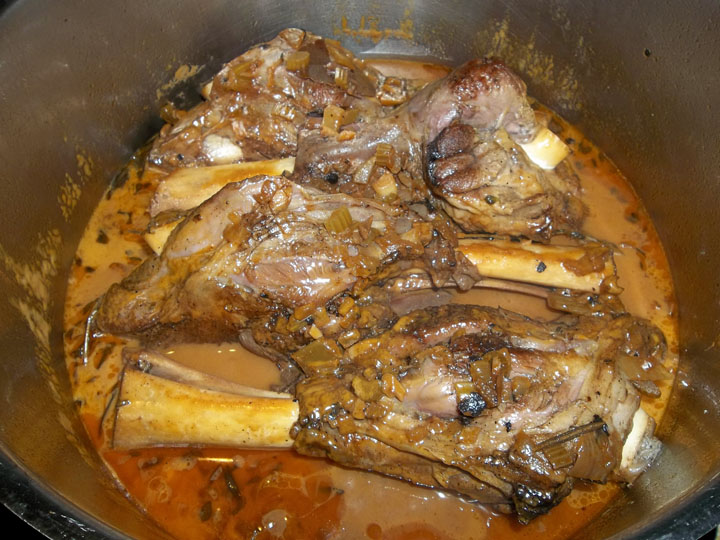 After three hours, they're falling off the bone tender remove the lamb shanks from the pot. Put them in an oven proof dish, cover tightly with foil, and place in a warm oven so they stay nice and hot while you deal with the sauce.
Kick up the heat on your stove to medium, bring the cooking liquid to a low boil, and cook until the sauce is reduced to about one cup. I add salt to taste at this point since I haven't added any salt to the dish yet. Then pour the sauce through a strainer to get rid of all the chunkies and you have a lovely gravy to pour over your lamb shanks and the mashed potatoes you should serve with them. You don't want any of that yummy sauce to go to waste.