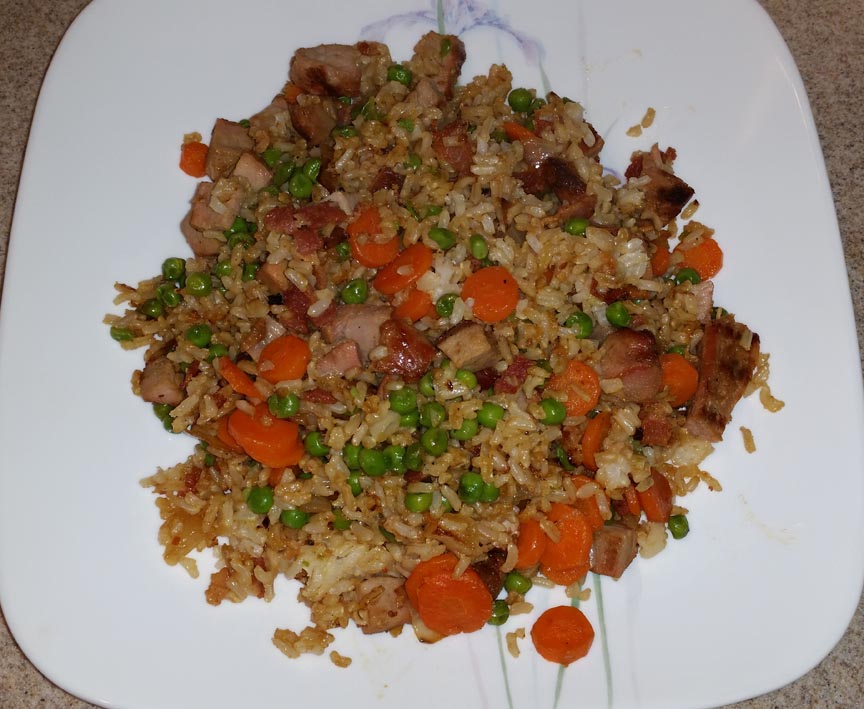 OK, doesn't that look good? It's just one of those uber pig out foods that makes life worth living. Fried rice is the main reason I love teppanyaki. They could keep everything else and just plunk down a big bowl of fried rice in front of me, and I'd be in heaven. I confess I judge teppanyaki restaurants largely upon whether or not they put bacon in their fried rice. Without bacon, what's the point? I got tired of having to eat out every time I wanted a fried rice fix, so I learned to make it at home.
This is a great way to use up leftovers. In the above photo I added some leftover grilled teriyaki pork tenderloin from dinner a couple of nights before, and turned my rice from a side dish into the main course. The pork was marinated in the same sauce I used for my teriyaki chicken kebobs, but I'll post the teriyaki marinade recipe under condiments to make it easier to find. I cut the tenderloin part way through lengthwise and butterflied it out so it would soak up more marinade and cook quicker on the grill.
Anyway, this recipe with the addition of some pork or chicken makes a main dish for two. With or without additional meat it would make a side dish for four people. Enjoy!
3 cups cooked rice, or more (white or brown & about 1 cup rice before cooking)
1 cup sliced carrots
1 cup frozen peas
1/2 cup chopped onion
6 slices bacon (or more)
1-1/2 cups leftover cubed teriyaki pork or chicken (more or less, and they are optional)
3 Tablespoons butter
2 Tablespoons soy sauce or tamari
1 teaspoon powdered garlic (NOT garlic SALT)
Put the carrots and peas in a pot of water and boil until tender, then drain.
Meanwhile, use some kitchen shears and snip the bacon crosswise into little strips, then fry until crispy. Lay down a piece of foil, put a paper towel or two on top of that, & place the cooked bacon on the paper towel to drain. (Much less messy and easy to wad up and throw away the mess)
Saute the onion in 1 Tablespoon butter until it begins to brown. Add two more Tablespoons butter until melted. If you're adding pork or chicken to your rice, add it now and let it cook for a couple of minutes to heat up. Then add the rice, veggies and bacon, and mix well.
Sprinkle the soy sauce and garlic powder over the top, stir and cook until the rice is uniformly coated and everything is nice and hot. Give it a taste and add more soy sauce and garlic powder if you like.