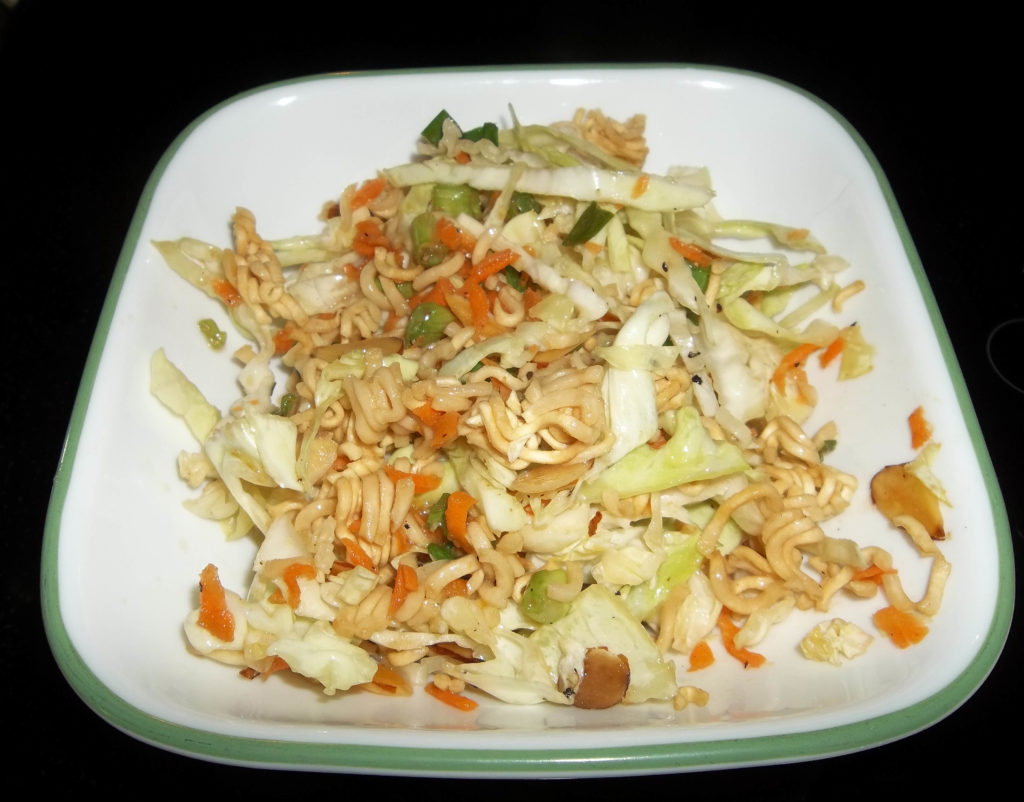 OK, I know this photo could be better, but it's leftover salad that sat out on the counter overnight. Think how much better it'll look when it's fresh! I'm all about the eating, not so much about the picture taking, but you get the idea. It's colorful and full of lots of yummy things. It's something a little different to take to the old potluck dinner.
This is a recipe I got from Cousin Natalie! It's in the family cookbook I put together years ago, but it never gets old. I don't know why it's called Sumi Salad, but I guess it sounds more exotic than Asian Slaw.
I add a little grated carrot for color, which isn't in the original recipe. I also have cut the recipe in half, since I'm usually only cooking for four. You could double the recipe if you have say, ten people for dinner, or keep multiplying it to feed the masses.
I also use this recipe to make a really good Chinese chicken salad. I substitute ice berg lettuce for all or half of the cabbage. I grill, chill, and slice some teriyaki chicken breasts to add in. And "Voila" Chinese Chicken Salad!
SUMI SALAD
4 cups green cabbage, shredded
1/2 cup grated carrota
1/4 cup sliced green onion
1/4 cup toasted almonds (slivered or sliced)
2 Tablespoons toasted, unsalted sunflower seeds
1 Tbsp toasted sesame seeds (optional)
1 pkg Oriental flavor Ramen noodles
DRESSING
1/4 cup rice vinegar
2 Tablespoons sugar
3 Tablespoons oil
2 Tablespoons water
1/8 tsp salt
1/4 tsp pepper
Seasoning packet from the Ramen noodles
Crumble the Ramen noodles, place in a pie tin or baking dish and toast at 350 degrees until browned, or you can toast them in a skillet on the stove. Repeat with the almonds, sunflower, and sesame seeds. You can toast them all together, but they will brown less evenly and sesame seeds can burn easily.
Dump cabbage, carrots and onions in a bowl. Add dressing and crunchy bits to taste, and toss.