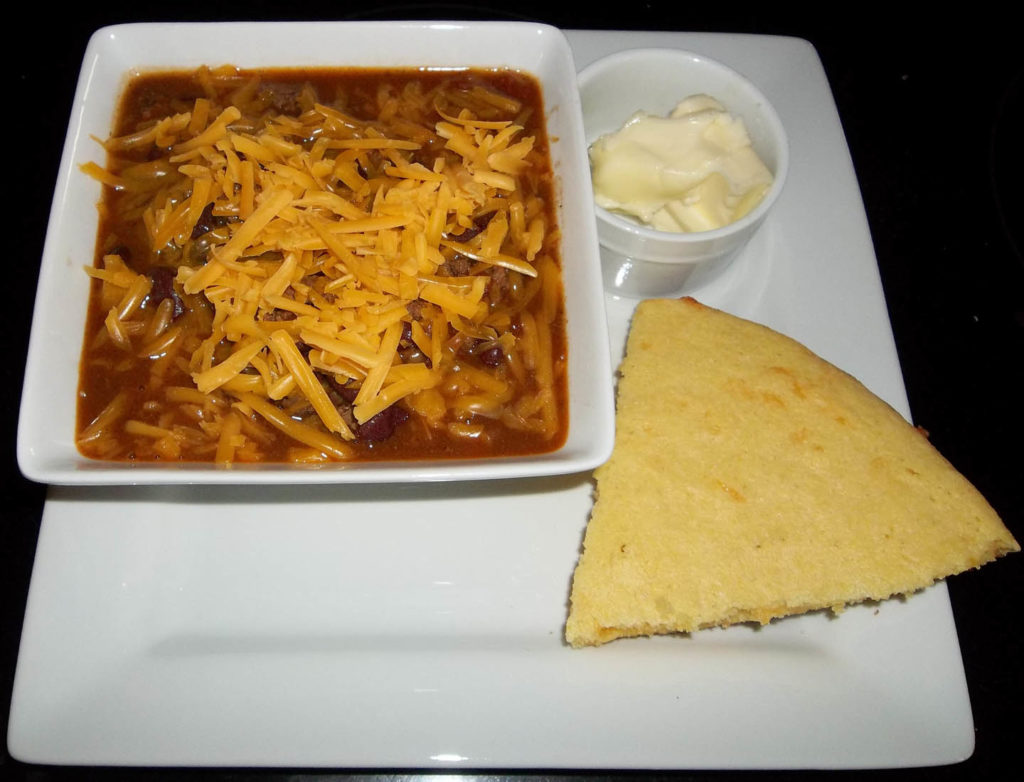 I put this recipe under soups because it comes in a bowl? Seems as good a reason as any. Before you turn up your nose, I'm not planning on winning a chili cook off with this recipe. This is one of those "get in my belly quick" recipes, and we need those too. This photo also features Bean's best friend Cornbread.
You can use these beans to make some really good chili burgers too. Lay down some buns (which I like to first spread with butter, sprinkle with a little garlic powder and Parmesan cheese, and broil until browned). Top with a grilled or fried hamburger patty. Top that with some of these chili beans, drained of liquid, and sprinkle with some cheddar cheese. Oh, baby!
1 pound ground beef
1 large onion, chopped
2 27 oz cans chili beans (or 4 small cans)
1 28 oz can petite diced tomatoes (or 2 small cans)
1 teaspoon garlic powder
1 teaspoon crushed dried oregano (not ground)
1/8 cup chili powder (1/4 cup is you like a little hotter, more chili flavor)
Cooked the ground beef and onion until browned, drain off fat. Dump the remaining ingredients into pot. Cover and simmer for a half hour or longer to blend the flavors.
If you like it hot, you can try adding a 4 oz can of diced green chili peppers. If you like it hotter still, you can add 1/4 teaspoon of cayenne pepper.
I like mine topped with a little grated cheddar cheese. OK, maybe a lot of cheese.