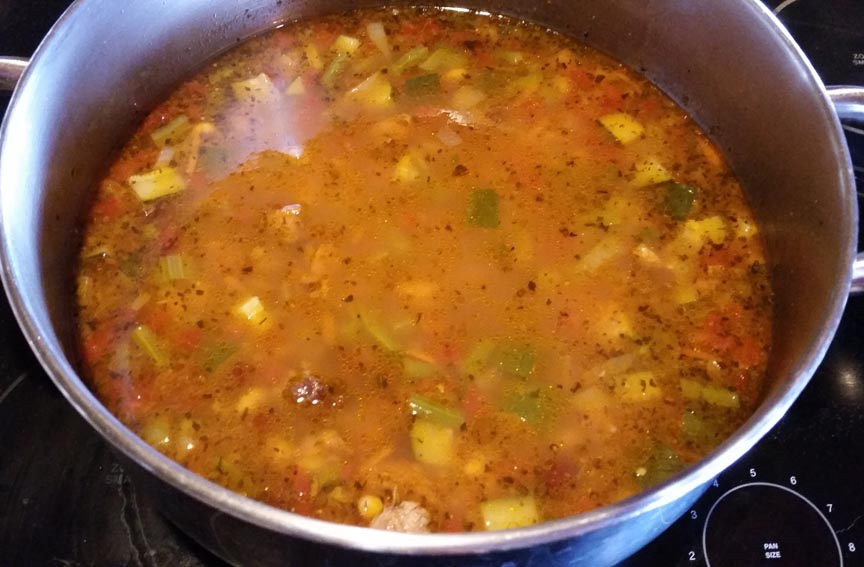 This is a versatile soup to have in your arsenal. I'll give you the recipe for the vegetarian version. You can leave the pasta out, or use gluten free pasta. One way or another, you can make it to suit everyone.
Sometimes I'll brown some bone-in beef, like oxtail, then simmer it in the broth for an hour (using half beef and half vegetable broth), pick the meat off and discard the bones, then proceed with making the soup.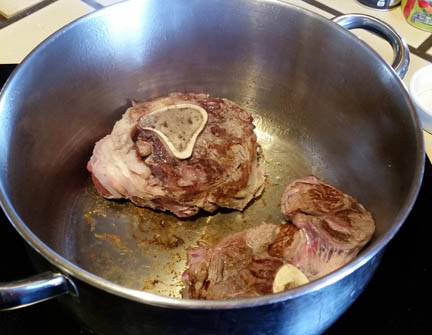 This soup is MUCH better reheated, after everyone has had a chance to get acquainted overnight in the fridge. And as you know, pasta in liquid will just continue to swell. If I'm making this for company, I'll make the soup the day before and leave out the pasta. Then when it's time to serve, I'll drop in the pasta and simmer the soup until the pasta is done. This batch I'm going to divide up into containers and freeze for a rainy day, adding pasta when I heat it up.
Serve it with a nice salad, some good french bread, maybe top your soup with a little sprinkle of Parmesan cheese, and you have an awesome meal.
MINESTRONE SOUP
3 Tablespoons olive oil
1 cup finely chopped white or yellow onion
1/2-1 cup zucchini, cut in small cubes
1/2-1 cup fresh or frozen green beans, cut in small pieces
1/4 cup minced celery
4 cloves minced garlic
8 cups vegetable broth (or beef, or half of each)
2 cans red kidney beans, rinsed & drained (15 oz cans)
2 cans small white beans, rinsed & drained (15 oz cans)
1 can diced tomatoes (14 oz can. I like petite diced)
1/2-1 cup shredded carrots
2 Tablespoons minced parsley
1  teaspoons dried, crushed oregano
1/2 teaspoon pepper
1/2 teaspoon dried, crushed basil
1/4 teaspoon dried, crushed thyme
salt to taste (depends on salt content of your broth)
4 cups fresh baby spinach
1/2 cup small pasta shells
Saute the onion, garlic, zucchini, celery & green beans in olive oil until the onions are translucent, about 5 minutes. Then everybody in the pool except for the spinach and pasta, and simmer for 30 minutes. Add the spinach and pasta and simmer another 20 minutes.
NOTES: You can vary the veggie amount depending upon whether you like your soup thinner or more like stew. You'll add more veggies if you aren't adding pasta or meat, less if you are. Salt will depend on your taste and the salt content of the broth you're using, so taste first, then add salt. If you get carried away and your soup doesn't have enough broth, just add more water. If you add more water and it doesn't have enough taste, add some bouillon. It'll all work out in the end.