It's like Cher, or Madonna…one word says it all. It may not be fancy, but I be lovin' me some Stew. A big bowl of hearty stew, some buttery biscuits, and I'm headed toward a food coma. It takes a while to cook, but prep is easy, it doesn't make much of a mess in the kitchen, and it smells delicious. Everybody has a different version. Here's mine.
STEW
1 whole tri-tip
1/2 large onion, diced
16 oz tomato sauce
4 cups water
2-1/2 teaspoons Morton's Season All, seasoned salt
1/4-1/3 cup flour
2 cups potatoes, cut in bit sized cubes
1-1/2 cups sliced carrots
1-1/2 cups frozen peas
Trim the fat off of the tri-tip and cut it into large, bite sized chunks, about 1 to 1-1/2 inches. Sprinkle the seasoned salt and flour over the meat, right on the cutting board. Use your knife to scrape under the meat, tossing it around, until it's well coated with the flour and seasoning like so…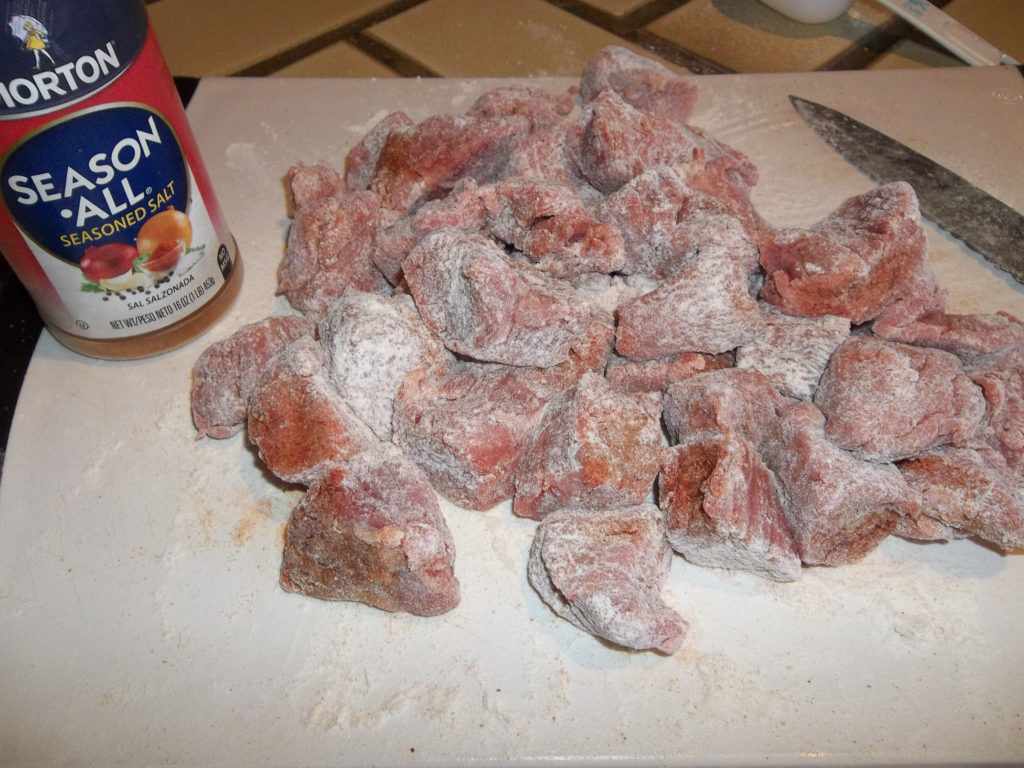 Pour a generous layer of oil into a large pot and heat up to about 350 degrees. Fry the beef cubes until they're well browned, then pour off the oil. Add the tomato sauce and water. Stir and scrape the bottom of the pot until all the browned bits of flour are loosened, which will thicken your stew later on.
Turn the heat down to medium low, cover the pot, and simmer for two hours so the meat will be nice and tender.
At the end of two hours, stir in the veggies and raise the heat up a little. Cook with the lid off so the stew will thicken, for at least another hour or until the veggies are tender. Stir it more often as it thickens, scraping the bottom of the pot and watching to make sure it doesn't scorch. Voila!